Concrete Porch Steps Minneapolis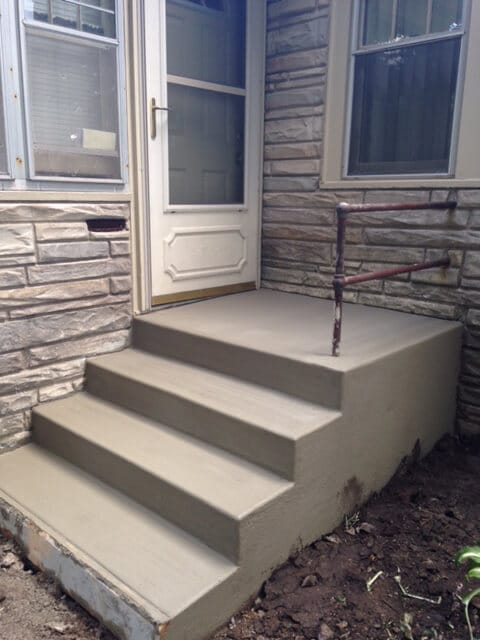 Whether it's a front porch or a back porch, it should be safe; it should also offer a beautiful entryway to your home, a place to gather and relax. If its steps are cracked or crumbling, your porch can pose dangerous footing and an unsightly eyesore. The condition of your exterior steps influences the overall safety and appearance of your home, making it essential to have any issues addressed as soon as possible. That's where Wohlwend Concrete comes in. As area experts in concrete porch steps for Minneapolis and the surround areas we can help make your porch a safer and more attractive place to relax or welcome guests.
Enhance your home's curb appeal by hiring us for concrete step repair or installation. When you call us to install concrete steps, the installation process is easy. We will talk to you about what you want and your desired time frame and budget. We will then come to your home and remove the existing concrete steps. From there, we will prepare the area for construction and take all of the necessary measures to ensure you are getting the highest quality concrete steps, such as compacting the soil and putting in steel reinforcements. Finally, we will pour the concrete and perform any finishing touches that are needed.
Plus, there won't be any surprises when you hire us. We will be completely up front with you about what to expect in terms of price and time frame for your concrete porch steps.
Concrete Porch Steps from Wohlwend Concrete
At Wohlwend Concrete, we know concrete. In business since 1985, Wohlwend Concrete has helped many of your friends, neighbors and colleagues with their concrete needs. Concrete can take a beating here in Minnesota. That's why, here at Wohlwend Concrete, we understand how important it is to have concrete steps that can stand up to the test of time. Even in the face of fluctuating temperatures and precipitation, our steps are built to last with the proper care and maintenance.
As a locally owned and operated business, we know how harsh Minnesota can be and take care to ensure that your concrete will look great for years to come.
When you call on us for concrete porch steps, you will love the end result! We can take on any concrete porch steps job, no matter how big or small, and we pride ourselves on our high quality customer service. With a strong work ethic, the turn-around times for the jobs we take on is quick, and we make every effort to complete the jobs on time and on budget.
Contact Us For New Concrete Porch Steps
To learn more about repair or installation of concrete porch steps in the Minneapolis area, call Wohlwend Concrete at 651-426-2610 or Contact Us to get a free quote.