Concrete Sidewalks Golden Valley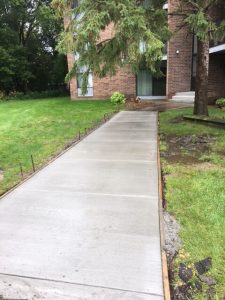 Are you looking to replace or install new, beautiful concrete sidewalks at your Golden Valley home or business? Proper installation is the key to keeping those new concrete sidewalks lasting and intact. That is why it is so essential to enlist the very best in the business. A well set batch of concrete sidewalks by seasoned concrete professionals helps avoid cracking and other problems. To make sure your concrete sidewalks are correctly installed, call the professionals at Wohlwend Concrete. We install concrete sidewalks in Golden Valley and the greater Twin Cities area for residences and businesses alike.
New concrete sidewalks are a great way to add curb appeal to your home or business. A sidewalk that is in good shape without cracks or any other signs of disrepair shows that you take pride in the way your home or business looks, and it makes your home or business more warm and welcoming to guests, customers and others.
Ready to get started? Call us and we can tell you more. We'll give you a free estimate, and we can talk to you in greater detail about what we do and the process we use when installing new concrete sidewalks.
Concrete Sidewalks from Wohlwend Concrete
When it comes to concrete sidewalks, we are the ones to call. Not only will we do our best to minimize any disruptions to your family's or business' daily routine, we will work quickly without cutting any corners. And, you will not have to wait long for your new sidewalks to be ready to use.
When you call Wohlwend Concrete for new concrete sidewalks you can rest easy knowing your new concrete sidewalks will be installed by a master's hand. They will be installed according to the most current and up to date safety and construction codes and regulations. We have been in business since 1985 and through the years, we have helped countless home and business owners get the concrete sidewalks they want at a great price.
Working with us is easy. We will always stay in contact with you so you always know what stage your project is in and when your new concrete sidewalks should be fully ready to walk on and use.
Learn More about Concrete Sidewalks
Do you want to learn more about concrete sidewalks in the Golden Valley area? Call Wohlwend Concrete at 651-426-2610 or contact us and get a Free Quote.