Concrete Step Replacement Roseville
Does your home or business have concrete stairs that are starting to crumble? If your concrete steps are beyond repair, you need concrete step replacement in Roseville or the surrounding areas. Wohlwend Concrete has been the local experts in concrete step replacement for decades, so rest assured you are in good hands!
If you have damaged or broken concrete steps at your home or business, they don't just look bad and even sometimes scare away customers, but they pose a major safety risk as well! Protect yourself, your loved ones or your customers by having our professional contractors come out and replace your old, deteriorating steps!
Our professionals come to you to replace your concrete steps and ensure that they remain in good condition for years to come (with the proper care and maintenance of course!). We understand the local climate and what your concrete steps will have to endure during harsh Minnesota winters, so we know how to prepare your concrete steps for what's to come.
We specialize in both the removal of old concrete steps, but also the installation of brand new, aesthetically pleasing concrete steps that are sure to up the appeal of your home or office!
When you hire Wohlwend Concrete for concrete step replacement, we come to your home or business to get the job done. We start the job by removing your old, crumbling concrete steps. Then, we prepare the area for construction. Our contractors take every necessary step to provide you with the best quality concrete steps, including compacting the underlying soil and implementing steel reinforcements. Finally, we pour the concrete and complete any desired finishing touches on your brand-new steps!
Are you ready to replace your concrete steps at your home or business? Contact us today to get on our schedule!
Wohlwend Concrete for Your Concrete Step Replacement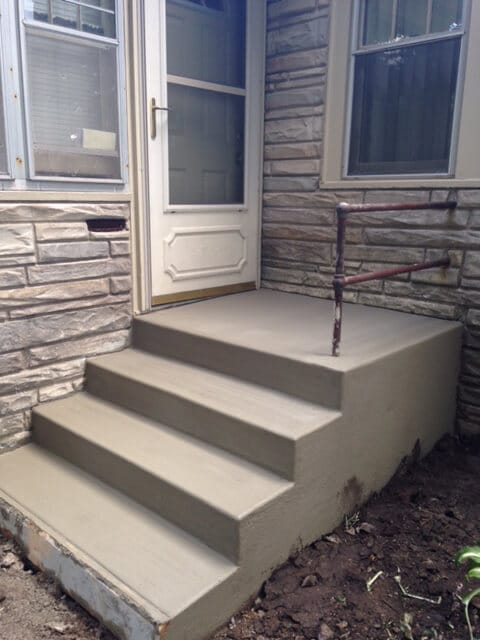 When you choose Wohlwend Concrete, you don't get just a run of the mill concrete contractor. Instead, you get excellent customer service and a trusted, local name that understands the climate here in Minnesota. We know exactly what your concrete steps will have to endure through the winter months, so we know how to make sure they last with minimal maintenance.
Call us today to learn more about concrete step replacement! We are proud to service the whole Twin Cities area.
Interested in Concrete Step Replacement?
Have you been meaning to hire someone for concrete step replacement in Roseville or the surrounding area? Call Wohlwend Concrete today at 651-426-2610, or you can contact us and request a free quote!