Concrete Steps Eden Prairie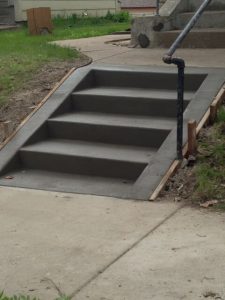 Create curb appeal and update the overall look of your home or business with new concrete steps. The condition of your exterior steps influences the overall safety and appearance of your structure. So, it is essential to have any issues addressed as soon as possible and replacement performed immediately when necessary. No one wants to walk up crumbling old steps or buy a home with this unsightly, unsafe problem. That's where Wohlwend Concrete comes in. Wohlwend Concrete builds concrete steps for Eden Prairie and all of the surrounding areas. In business for decades, we know concrete, and we know how to install concrete steps that will last you for decades to come.
Enhance your home's curb appeal or the appearance of your business property by hiring us for concrete step repair or installation. When you call us to install concrete steps, the installation process is easy. We will talk to you about what you want and your desired time frame and budget. We will then come to your home or business and remove the existing concrete steps. From there, we will prepare the area for construction and take all of the necessary measures to ensure you are getting the highest quality concrete steps, such as compacting the soil and putting in steel reinforcements.
Plus, there won't be any surprises when you hire us. We will be completely up front with you about what to expect in terms of prices and time frames.
Concrete Steps from Wohlwend Concrete
Concrete can take a beating here in Minnesota. That's why, here at Wohlwend Concrete, we understand how important it is to have concrete steps that will stand up to the test of time. Even in the face of fluctuating temperatures and precipitation, our steps are built to last with the proper care and maintenance.
We are the trusted name in the area when it comes to all things concrete. We offer decorative concrete, stamped concrete, driveways, pool decks, patios, sidewalks, floors and more. If you need masonry repair, we offer services like tuck pointing, brick work, trash enclosures and more. So, when you think of concrete, or specifically concrete steps, think of Wohlwend Concrete!
When you call on us for concrete steps, you will love the end result! We hope to exceed your expectations on every job we do – no matter the size.
Give us a call today so we can get started on your concrete steps right away!
Get New Concrete Steps Today!
For more information on concrete steps in Eden Prairie, call Wohlwend Concrete at 651-426-2610 or get a Free Estimate.