As experts in masonry construction serving Orono and all of the surrounding areas, we are often called to homes or businesses that are experiencing problems with their masonry. Or, when they want a new patio, walkway or retaining wall installed. No matter what kind of masonry work you need to have done, we can help. We can even help if you've got questions about masonry construction! As experts in the field, we receive quite a few questions about it. That's why we've compiled a list a few of them here. If you have any additional questions about masonry construction, don't hesitate to give us call and we can tell you more about it.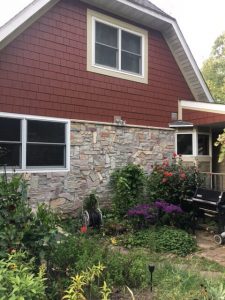 Q: What kinds of projects can masonry construction cover?
A: Masonry projects can scale from simple mortar replacement to structural reinforcement or even full wall builds. At Wohlwend Concrete we can handle an array of masonry construction projects, including brick work, block work, additions, kitchens, fireplaces, fire pits, garden paths, walkways, benches, chimneys, tuck pointing and much more!
Q: What is the difference between brick and concrete?
A: Bricks are made out of a mixture of either clay or shale. Concrete pavers are made out of specially formulated mixture of cement. Concrete pavers have a very high compressive strength which makes them excellent for driveways, walkways, patios and more.
Q: Can masonry construction help with my broken chimney?
A: Yes. Contact us immediately if your chimney is broken. No matter what happened or where it's broken, it's extremely unsafe to use. We can even fix your chimney crown. The chimney crown is the top, flat part of the chimney covered with cement. It's sloped usually to shed water, while protecting and holding together the chimney top.
Q: Should the masonry contractor I hire be licensed?
A: Absolutely. Mason contractors are just like any other contractors and should hold all necessary state licenses and certifications that pertain to their trade: masonry construction.
Q: What is considered masonry construction?
A: Conventional masonry materials include brick, concrete block, natural and cut stone, and traditional stucco that is applied over a concrete masonry base.
Q: Why should I choose masonry construction?
A: There are many benefits to masonry construction. For one, it can help increase the value of your home or business. It also offers structural soundness and a variety of other benefits. Contact the experts here at Wohlwend Concrete and we can tell you even more!
We understand that masonry construction and what goes into it can be confusing, but it doesn't have to be, especially when you hire a masonry contractor from Wohlwend Concrete. Contact us today to learn more about masonry construction for your Orono home or business.