Summer is almost here, and you've likely already started tackling some much-needed home improvement projects. The entranceway and overall exterior of your home could likely use some sprucing up after a long winter of neglect and quarantine. After all, the safety of your property is still essential. New concrete projects including concrete steps, sidewalks and others can not only provide a better-looking property but a safer one as well. Currently, we are installing concrete steps, walkways and driveways all over the area! So, when you're ready to start a new concrete project at your home or business, contact our team; we are the trusted name in concrete including residential concrete steps for Oakdale and the entire Twin Cities area.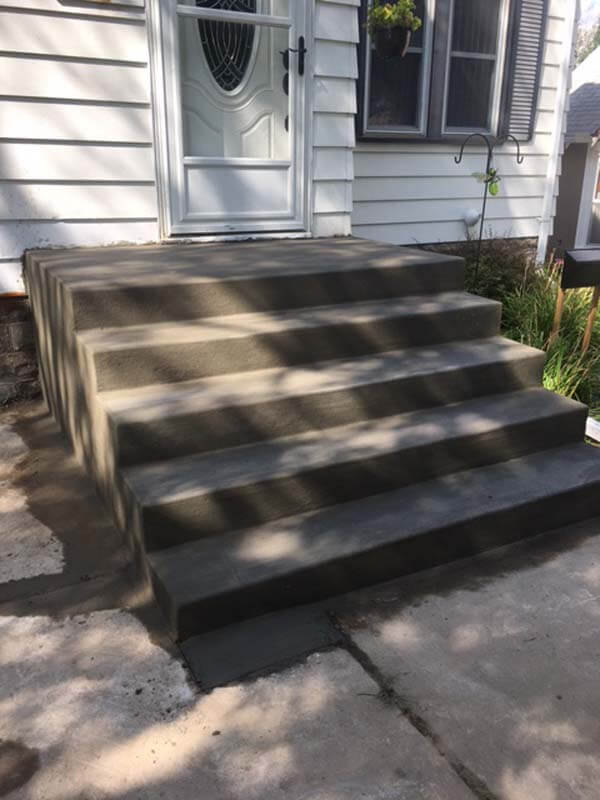 Are your home's current steps cracked or crumbling? Residential concrete steps could be an ideal project for you this spring. There are many reasons why concrete is a superior choice for your home's exterior steps. Here are just a few of the benefits of installing them:
They are easy to maintain and repair, if need be.
Durable.
Quality at an affordable price. Concrete is more affordable than other materials used in steps construction, making it a budget-friendly choice.
They look great! Residential concrete steps are visually appealing and can be made more so with the addition of embellishments.
And more.
In addition to residential concrete steps, safer walkways, driveways and sidewalks are some other great projects to tackle. If your concrete driveway or sidewalk is in really bad shape, you should definitely call us as soon as possible to get them fully replaced.
Have you been daydreaming of finally installing that backyard pool? A beautiful, easy-to-maintain concrete pool deck is in order! In fact, concrete is the perfect material for a variety of projects and is especially great for outdoor applications.
How about a new patio for your summer get-togethers? There are so many benefits to choosing concrete for your patio. Of all the materials available to build patios, concrete is the most traditional yet versatile choice. It's smooth, clean, can be cast and formed into curvilinear or geometric shapes, and, with the addition of tints, can become anything other than basic.
As the weather warms up, it increasingly becomes a great time of year to install long lasting concrete. Consider other exciting projects like a poured wall, garage apron, curb; the possibilities are endless!
Are you interested in starting one of these exciting summer projects? For more information on concrete construction including residential concrete steps for your Oakdale area home, call Wohlwend Concrete at 651-426-2610 or contact us to set up a Free Estimate.